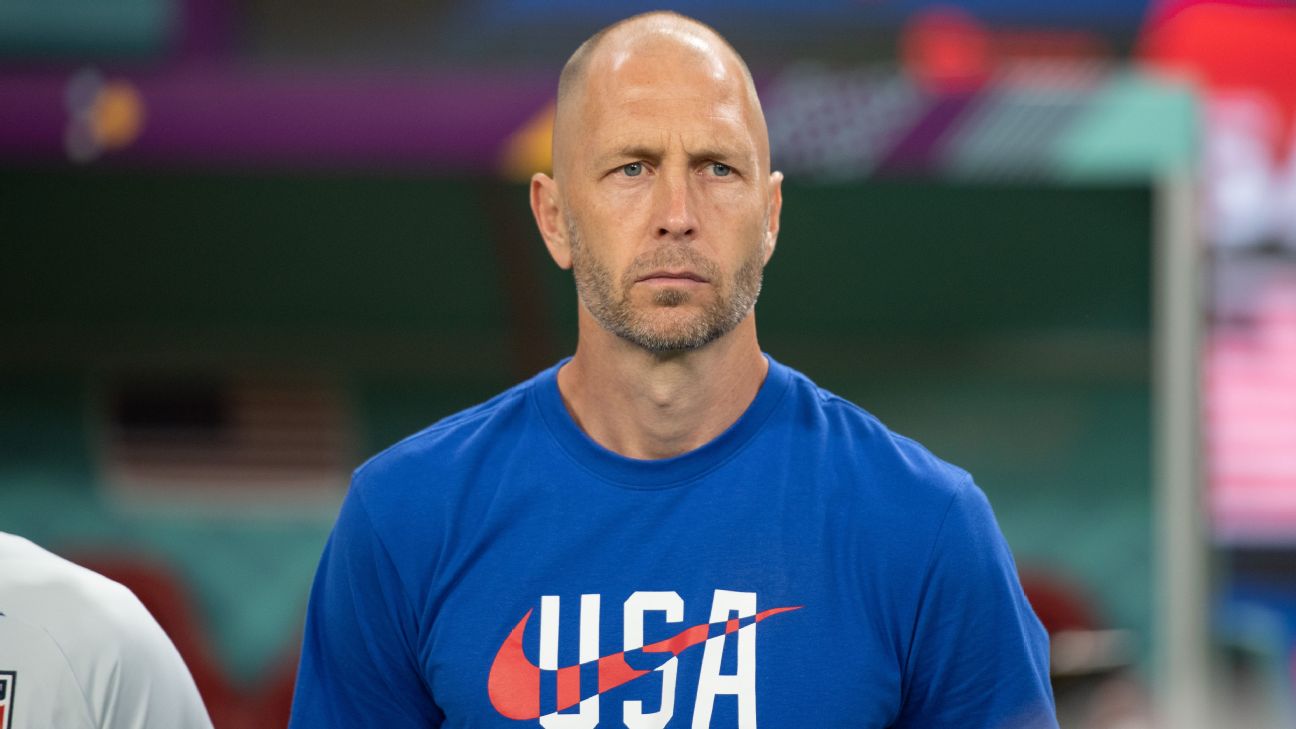 Gregg Berhalter has said he would like to continue as United States men's national team coach into the 2026 World Cup cycle, five days after his contract with the team expired.
As well as undertaking a review of the USMNT program following the 2022 World Cup, US Soccer has commissioned an investigation into a domestic violence incident involving Berhalter's now-wife from 1991. The incident was brought to light by the mother of one of the team's best players, Gio Reyna, Danielle Reyna said on Wednesday.
– Stream on ESPN+: LaLiga, Bundesliga, more (US)
Given that background, Berhalter was asked during an appearance Thursday on The New World of Work, an online streaming show produced by the Harvard Business Review, if he still wanted to be the coach.
"It's about being able to take that next step and the next step is doing something that you know the US team has ever done and that's get gets the semifinals and see what happens from there," he said, looking ahead to the 2026 World Cup that will be hosted by the US as well as Canada and Mexico.
"So, there's a lot of great challenges involved. Of course, I'd like to continue in my role."
Berhalter went public with details about the 1991 incident in a lengthy statement posted to Twitter on Tuesday. Shortly after the statement was released, US Soccer announced it had launched an investigation after becoming aware of the incident on Dec. 11.
On Wednesday, in another lengthy statement provided to ESPN and other media outlets, Danielle Reyna admitted to sharing details of the domestic violence incident — in which Berhalter said he kicked his wife after a heated argument — with USSF sporting director Earnie Stewart.
USMNT assistant coach Anthony Hudson will lead the team for friendlies against Serbia on Jan. 25 in Los Angeles and against Colombia three days later in Carson, California.
But in a news conference Wednesday, Stewart allowed for the possibility that Berhalter could be re-hired as coach upon the conclusion of the external law firm's investigation and US Soccer's own internal review of the men's program.
"Our entire family is saddened by these events," Berhalter added. "Something we wanna move forward from.
"As we said in the statement, it was something that we didn't hide from back then, and we weren't prepared to hide from it now. think the worst part of it for me is my heart aches for my wife because it was her story to tell if she chose to or not."
As host Adi Ignatius introduced Berhalter to begin the show, he said the Harvard Business Review asked him if he wanted to cancel Thursday's appearance given the highly public controversy and that he chose not to.
"Berhalter's decision to limit the playing time of one of his young players prompted the player's parents to try to blackmail him by threatening to expose an incident more than three decades ago where Berhalter and a woman got into a fight," Ignatius said as part of the introduction. "This is the ultimate soccer mom nightmare."
Berhalter did not take issue with that characterization of the events.
Former USMNT captain Claudio Reyna, Danielle's husband and Gio's father, sent multiple messages to USMNT general manager Brian McBride and Stewart during the World Cup, in which he said he shared his frustration about Gio's World Cup experience.
Multiple sources told ESPN he threatened to share allegations about Berhalter's past, but Reyna has denied those allegations.
"While in Qatar, I shared my frustrations about my son's World Cup experience with a number of close friends, Earnie and Brian McBride among them. However, at no time did I ever threaten anyone, nor would I ever do so," he said in Wednesday's statement.